Steelbird Tyres
Bring for the first time in India a
Unique Services
Puncture Doctor
24X7 on-site
flat tyre assistance
Exclusively for
Steelbird Tyres Customers Only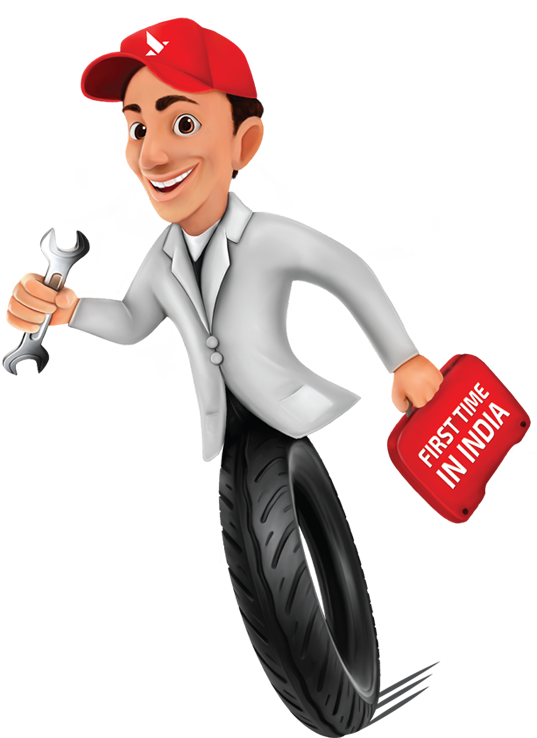 Punctures don't care about your trip But
Puncture doctor Does
Think of a hassling time when you were stuck in the middle of nowhere. A desolate spot, a deserted vstretch of road on a simmering summer day, perhaps drenched in a sudden shower, in bad traffic or maybe in a narrow lane with a line of vehicles compounding your misery with their incessant honking.
Indeed, very relatable situations when you're stuck with a flat tyre. A situation that never develops with a forewarning. It can just occur anytime, anywhere.
This has been critically assessed by Steelbird Tyres and thus has led to the launch of the first-of-its-kind service in India – Puncture Doctor. Finally relieving you of trouble on the road, by offering you seamless, round-the-clock flat tyre assi tance anywhere in India, just a call away.
A big boon to safety, convenience and peace of mind of the 2-wheeler rider. Hats off to Steelbird for conceiving and putting Puncture Doctor on the road.
Soar Like A BIrd With
Steelbird Tyres


Download
Steelbird Partner App

Register
With Your Unique
Tyre Serial Number

Receive OTP
On Your Mobile Phone

Add OTP
Number In The App


Call Toll-Free
Number
From Your registered
Mobile Number

Provide Your Unique
Tyre Serial No.
Printed On The Tyre

Puncture Doctor
Will Rush
To Assist You
F

requently

a

sked

q

uestion
What kind of 24x7 services can I get on the road?
From bike breakdown tow-away service to battery recharge and accident relief, these services are predominant on Indian roads.
Is there a bike helpline service?
Yes there are random service offerings by private service providers, but subject to variations in terms of availability at locations, time taken to reach the location and the range of services offered. For 2-wheeler riders in particular, cost is also a big consideration which is mostly high & thus therefore undesirable.
Does any company offer tyre related service?
Yes. In the last 6 months Steelbird Tyres has rolled out the unique, first-of its-kind Puncture Doctor service for its 2-wheeler tyre customers, with flat tyre assistance anytime, anywhere, just by placing a call on the toll-free number 1800 119 400. It is a boon for 2-wheeler riders and the service is completely FREE.
How can a rider avail the service?
It's simple. When a buyer purchases a Steelbird Tyre, he/she is registered on the database and given a unique product code which is also printed on the product. In the event of a puncture, the rider has to just call the toll-free helpline, give the code number reference and wait for just a few minutes before help arrives on site.
What is the objective for Steelbird Tyres to launch Puncture Doctor?
Steelbird Group has built a rock solid legacy over a 55 year period since inception, and is deeply committed to the quality of its products, constant innovation, adapting to changing market needs, safety of its customers as well as securing their trust and loyalty in the long run. In line with this ideology, Puncture Doctor is a unique service that combines with a superlative product, Steelbird Tyres, to enable a seamless experience to the customer across India.